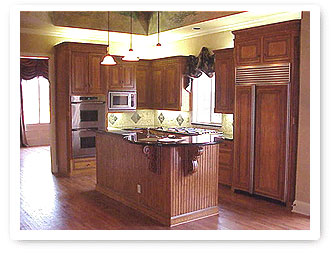 Custom Village Homes offers remodeling services throughout New York. Our professional craftsmen have years of experience and can provide you with creative renovation options customized for your home. Not only will your new living space look great, our dedication to quality will ensure you will enjoy it for many years to come.
Here are few remodeling options we offer:
Additions and New Construction – Although they are more expensive than most remodeling options, adding additional rooms can have the most impact on the value of your home.
Basements – An unfinished basement can be sheetrocked and floored offering a less expensive alternative to increase the living space of your home.
Bathrooms – As one of the most used rooms in your home with a high moisture content, bathrooms tend to degrade faster than other rooms. Updating your bathroom with our latest materials and fixtures will bring a fresh new look that will last longer.
Decks – Offer a great place to relax and entertain during the summer months. Replacing an old worn out deck can change the whole look of your yard.
Dormers – are a less expensive remodeling option that adds additional usable space and headroom in rooms with sloping ceilings.
Green Remodeling – We offer green remodeling options that promote energy efficiency, resource conservation, and a healthy indoor environment.
Kitchens – Are one of the most used rooms in your home with high foot traffic, moisture and food preparation. They need to be durable and attractive. Updating your kitchen can impact the look of your entire home.
Masonry – Stonework, brickwork and concrete are the longest lasting parts of your home. We offer restoration and replacement options to keep your exterior looking great.
Porticos – Are an inexpensive way to add beauty and function to the entranceway to your home.
Roofing and Gutters – Some may say a new roof is more of a preventative maintence then an aesthetic improvement. We offer the latest roofing options and colors that will improve your insulation and efficiency and increase the beauty of your home.
Siding – We offer many types of siding that are both long lasting and energy efficient. New siding is one the best ways to update an older house.
Sunrooms – Offer beautiful usable space in your home for less than a full addition.
Window Replacement – When older windows begin to take in moisture and fog, they can degrad the look of the room and entire house. New windows not only look great but can offer higher energy-efficiency, UV protection and insulation.