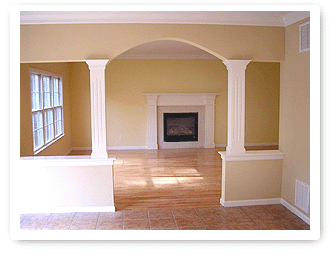 The design of your home will be a reflection of your family's lifestyle…warm and inviting inspired by your dreams of the perfect home.  At Custom Village Homes, our approach to home design centers on how you live and what's most important to you.
The key to successful home design is our personalized approach to guiding you through the design and selection process.
From spacious kitchens, inviting family rooms and relaxing bed and bath retreats to multi-function home offices and entertainment areas, we design personalized spaces that meet your every need and desire.
The design/build process at Custom Village Homes begins with selecting your home site.  We will help guide you through the orientation of your home to make the most of your chosen location.
Next comes selecting a home style and having your home designed and priced.  With that complete, financing can be secured and building can begin.
While foundation and framing gets underway, you begin making your product selections.  This can be the most exciting step in the building process, as you select the products and materials that will make your home uniquely yours.
You will select everything from stone and brick, to floor coverings, surfaces, paints, stains, appliances, lighting, plumbing fixtures and more.  Custom Village Homes and their preferred suppliers make the process enjoyable and efficient.
At selected times during the construction process you will meet with Custom Village Homes to approve key stages of construction.
With your new home completed, Custom Village Homes schedules a final walk-through, as the final step in the building process.  With approvals, your closing is scheduled and you are handed the keys to your new home.